Exploring the Impact of Excessive Social Media Use on Mental Health and Social Interaction

Abstract views: 68 /

PDF downloads: 25
Keywords:
Social Media, mental health, Addiction, Dopamine, antisocial, youth, mindfulness, loneliness, well-being, isolation
Abstract
This paper examines the impact of excessive social media usage on mental health and well-being, focusing on its potential to trigger antisocial behavior, deteriorate mental health, and foster addictive tendencies. Despite the label "social," social media can diminish social interactions, contributing to feelings of loneliness and heightened social anxiety. Neurologically, the brain's reward system responds to social media interactions with dopamine release, cultivating addictive behavior, especially among young users. Studies reveal direct links between extensive social media engagement and increased anxiety and depression. The intricate relationship between dopamine, digital engagement, and mental well-being underscores the vulnerability of younger individuals. Balancing the allure of virtual connection with the risks of addiction necessitates a mindful approach to social media usage, including time limits and the pursuit of diverse offline activities. This inquiry highlights the importance of informed engagement to preserve well-being in the era of pervasive social media.
References
Moyer, M. W. (2022). Kids as Young as 8 Are Using Social Media More than Ever, Study Finds. The New York Times. https://www.nytimes.com/2022/03/24/well/family/child-social-media-use.html#:~:text=On%20average%2C%20daily%20screen%20use,(ages%2013%20to%2018)
Tee-Melegrito, R. A. (2022). Social Media Breaks: Benefits and Tips to Consider. Medical News Today. https://www.medicalnewstoday.com/articles/social-media-breaks#benefits
Scrubbing In by BSWHealth. (2017, June 17). Why Social Media Is Making Me Anti-Social. https://www.bswhealth.com
McLean Hospital. (2023, January 18). The Social Dilemma: Social Media and Your Mental Health. Here's How Social Media Affects Your Mental Health. https://www.mcleanhospital.org/essential/it-or-not-social-medias-affecting-your-mental-health
Robinson, L. (2023, March 29). Social Media and Mental Health. HelpGuide.org. https://www.helpguide.org
Miller, S. (2022, June 2). The Addictiveness of Social Media: How Teens Get Hooked. Jefferson Health. https://www.jeffersonhealth.org
Withington, S., & Punch, A. (2019, October). There Are Costs from Spending Too Much Time on Social Media. Syracuse University. https://www.maxwell.syr.edu
Cleveland Clinic. (2022, March 23). Dopamine: What It Is, Function & Symptoms. https://my.clevelandclinic.org/health/articles/22581-dopamine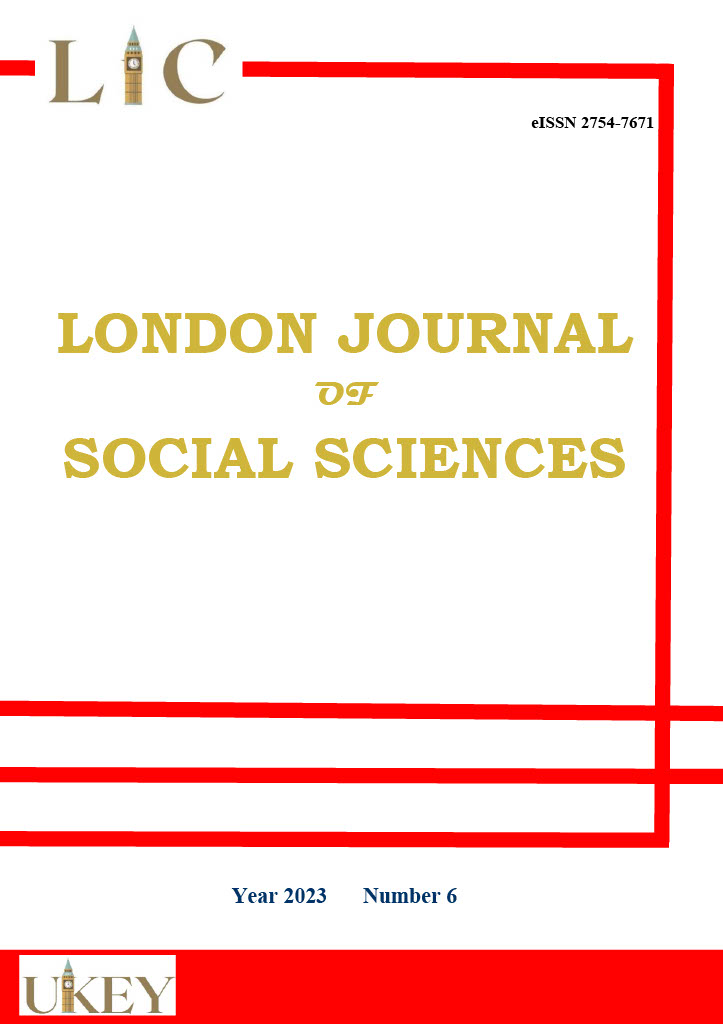 Downloads
How to Cite
Yildirim, E., Unal, E., Yazici, M., & Akin, A. (2023). Exploring the Impact of Excessive Social Media Use on Mental Health and Social Interaction. London Journal of Social Sciences, (6), 158–161. https://doi.org/10.31039/ljss.2023.6.119
License
Copyright (c) 2023 Emine Yildirim, Ervanur Unal, Mustafa Yazici, Asiye Akin
This work is licensed under a Creative Commons Attribution-NonCommercial-NoDerivatives 4.0 International License.
You are free to:
Share: copy and redistribute the material in any medium or format. The licensor cannot revoke these freedoms as long as you follow the license terms. Under the following terms: Attribution-NonCommercial-NoDerivatives-No additional restrictions.
Authors retain copyright and agree to license their articles with a Creative Commons Attribution-NonCommercial-NoDerivatives (CC BY-NC-ND) 4.0 License.