Artificial Intelligence and Underfunded Education

Abstract views: 22 /

PDF downloads: 13
Keywords:
underfunded education, rural education, artificial intelligence education, AI education, personalised learning, intelligent tutoring system, large classes, student-teacher ratio, electric access
Abstract
There has been a lot of general research on education, but the unique topic of underfunded education has been largely untouched. Millions of students around the world get a low-quality education due to problems in underfunded education such as the lack of experienced teachers, a high student-teacher ratio and outdated curricula. This negatively impacts them and their respective countries in the future due to subpar performance both in school and in the workplace; further exacerbating the educational and economic disparities between countries. The lack of research in this area is due to the various unique challenges facing underfunded education and the difficulty in solving them with conventional methods. However, many tools that utilise Artificial Intelligence (AI) such as adaptive learning systems, chatbots, virtual assistants and Intelligent Assessment Systems can be used to solve or at least manage these problems, making the process of education more streamlined, efficient and effective. The purpose of this study is to explore the possibility of implementing AI into underfunded education and the numerous benefits that doing so would bring. We also outline the various challenges that would be faced in implementation and possible solutions to them.
References
A. Bahanshal, D. (2013). The Effect of Large Classes on English Teaching and Learning in Saudi Secondary Schools. English Language Teaching, 6(11), p49. https://doi.org/10.5539/elt.v6n11p49
Ben Lutkevich. (2023, June). What are AI Hallucinations and Why Are They a Problem? TechTarget. WhatIs.Com. https://www.techtarget.com/whatis/definition/AI-hallucination
ChildFund. (n.d.). Poverty and Education | ChildFund. ChildFund. Retrieved 29 August 2023, from https://www.childfund.org/about-us/education/
Claire Chen. (2023, March 9). AI Will Transform Teaching and Learning. Let's Get it Right. https://hai.stanford.edu/news/ai-will-transform-teaching-and-learning-lets-get-it-right
David Heinz. (2014, December 13). Small Scale Generation for Electrification of Rural and Remote Areas. http://large.stanford.edu/courses/2014/ph240/heinz1/
Erik Ofgang. (2023, July 7). What Is Khanmigo? The GPT-4 Learning Tool Explained by Sal Khan. TechLearningMagazine. https://www.techlearning.com/news/what-is-khanmigo-the-gpt-4-learning-tool-explained-by-sal-khan
Giving Compass. (2021, March 5). Unequal Access to Technology Prevents Educational Equity. Giving Compass. https://givingcompass.org/article/unequal-access-to-technology-prevents-educational-equity
Global Education Monitoring Report Team, & UNESCO Institute for Statistics. (2023). 2023 SDG4 scorecard on progress towards national SDG 4 benchmarks: Key findings—UNESCO Digital Library. https://unesdoc.unesco.org/ark:/48223/pf0000384273
Golden. (2023). Khanmigo—Wiki. Golden. https://golden.com/wiki/Khanmigo-MAXYW38
Hu, K. (2023, February 2). ChatGPT sets record for fastest-growing user base—Analyst note. Reuters. https://www.reuters.com/technology/chatgpt-sets-record-fastest-growing-user-base-analyst-note-2023-02-01/
International Task Force on Teachers for Education 2030 & UNESCO Institute for Statistics. (2021). World Teachers' Day 2021 fact sheet—UNESCO Digital Library. https://unesdoc.unesco.org/ark:/48223/pf0000379187
Jake Silberg & James Manyika. (2019). Notes from the AI frontier: Tackling bias in AI (and in humans). McKinsey Global Institute. https://www.mckinsey.com
Kathryn Nieves. (2023, June 6). 5 Ways to Use AI Tools to Meet Students' Needs. Edutopia. https://www.edutopia.org/article/using-ai-tools-differentiated-instruction/
Laura Cozzi, Daniel Wetzel, Gianluca Tonolo, & Jacob Hyppolite II. (2022, September 3). For the first time in decades, the number of people without access to electricity is set to increase in 2022. IEA. https://www.iea.org/commentaries/for-the-first-time-in-decades-the-number-of-people-without-access-to-electricity-is-set-to-increase-in-2022
Lijia Chen, Pingping Chen, & Zhijian Lin. (2020). Artificial Intelligence in Education: A Review. IEEE Access, 8. https://ieeexplore.ieee.org/document/9069875
Lisette Partelow, Sarah Shapiro, & Abel McDaniels. (2018, September 20). Fixing Chronic Disinvestment in K-12 Schools. Center for American Progress. https://www.americanprogress.org/article/fixing-chronic-disinvestment-k-12-schools/
Matter & Form. (2019, September 4). Is Your Outdated Curriculum Failing to Interest Students? Matter and Form 3D Scanner for Education. https://matterandformedu.net/2019/09/04/is-your-outdated-curriculum-failing-to-interest-students/
Natasha Singer. (2023, October 6). Not Just Math Quizzes: Khan Academy's Tutoring Bot Offers Playful Features—The New York Times. The New York Times. https://www.nytimes.com/2023/06/08/business/khanmigo-tutor-chat.html
National Education Association. (2021, December 2). Rural Schools | NEA. https://www.nea.org/advocating-for-change/action-center/our-issues/rural-schools
Nikolas McGehee. (2023, April 27). Designing for the future with AI: Lessons learned in curriculum development | Michigan Virtual. https://michiganvirtual.org/blog/designing-for-the-future-with-ai-lessons-learned-in-curriculum-development/
Obiakor, M. I. (2023). PERCEIVED IMPACT OF POOR FUNDING OF EDUCATION ON QUALITY CONTROL IN GOVERNMENT SECONDARY SCHOOLS IN ENUGU NORTH LOCAL GOVERNMENT AREA OF ENUGU STATE. SK INTERNATIONAL RESEARCH AND DEVELOPMENT JOURNALS, 1(1), Article 1. https://doi.org/10.5281/j.v1i1.7
Odarno, L. (2017). 1.2 Billion People Lack Electricity. Increasing Supply Alone Won't Fix the Problem. https://www.wri.org/insights/12-billion-people-lack-electricity-increasing-supply-alone-wont-fix-problem
Shikalepo, E. E. (2020). Challenges Facing Teaching at Rural Schools: A Review of Related Literature. International Journal of Research and Innovation in Social Science (IJRISS), IV(V). https://www.rsisinternational.org/journals/ijriss/Digital-Library/volume-4-issue-5/211-218.pdf
Toff, B. (n.d.). Lack of Funding – Education Equity. INADEQUATE FUNDING AND ITS IMPACT ON STUDENTS. Retrieved 23 August 2023, from https://eduequityforall.com/lack-of-funding/
Tracy Wilichowski & Cristóbal Cobo. (2023, August 17). AI-powered teacher training: Promise or pitfall? https://blogs.worldbank.org/education/ai-powered-teacher-training-promise-or-pitfall
van Dijk, J. A. G. M. (2006). Digital divide research, achievements and shortcomings. Poetics, 34(4), 221–235. https://doi.org/10.1016/j.poetic.2006.05.004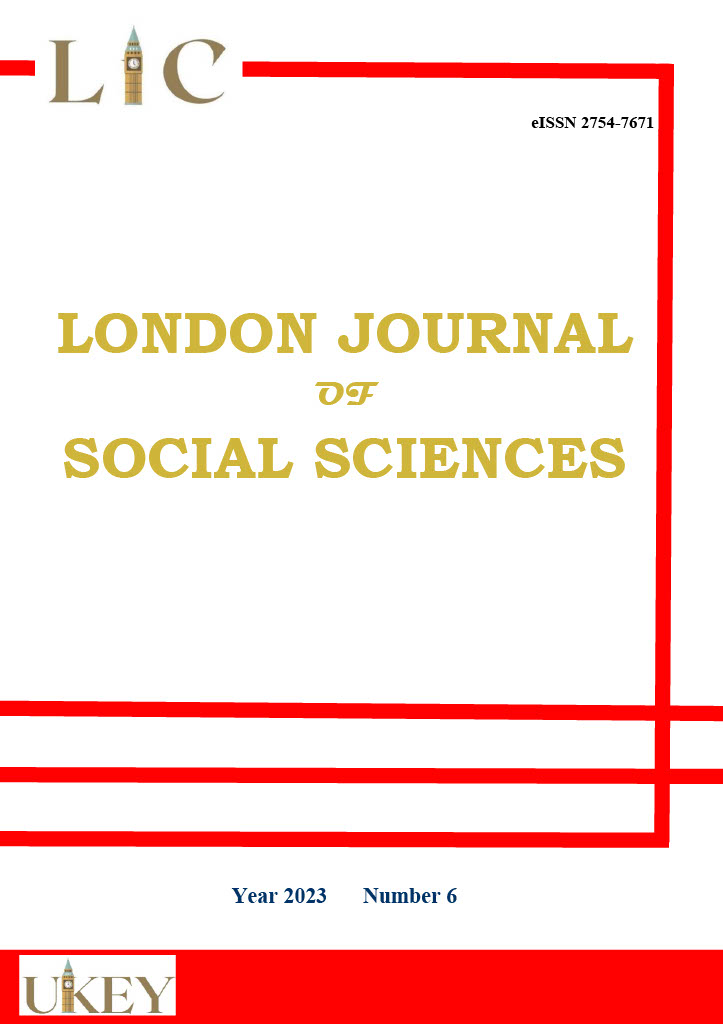 Downloads
How to Cite
Muranga, K., Muse, I. S., Köroğlu , E. N., & Yildirim , Y. (2023). Artificial Intelligence and Underfunded Education. London Journal of Social Sciences, (6), 56–68. https://doi.org/10.31039/ljss.2023.6.105
License
This work is licensed under a Creative Commons Attribution-NonCommercial-NoDerivatives 4.0 International License.