Estimating Ukrainians' approval of European Union values using artificial intelligence

Abstract views: 15 /

PDF downloads: 13
Keywords:
democratic values, artificial intelligence, European Union, integration
Abstract
This article aims to assess the worldviews and beliefs of respondents that have developed in Ukraine regarding the European Union using artificial intelligence (AI). The study examines the changes in attitudes and beliefs regarding the implementation of European Union values in society. The paper represents an attempt to understand the survey result with the use of AI. The estimation of Ukrainian citizens' values shows the growing tendency of Ukrainians to adhere to the values of democracy, personal freedom, the value of personal life toward the European Union beliefs. The study shows insufficient satisfaction with European values and beliefs in society due to the insufficient compliance with the law. Creation opportunities and encouraging people to spread views and beliefs of European Union values will support the adoption and dissemination of democratic values.
References
Ciuk, D. J., Lupton, R. N., & Thornton, J. R. (2018). Values Voters: The Conditional Effect of Income on the Relationship Between Core Values and Political Attitudes and Behavior. Political Psychology, 39(4), 869–888. http://www.jstor.org/stable/45094437
Baron, J. (2003). Value analysis of political behavior - self-interested: University of Pennsylvania Law Review. Vol. 151, No. 3 (Jan. 2003), pp. 1135-1167 (33 pages) https://www.sas.upenn.edu/~baron/papers.htm/ratsymp.html
Bertelsmann Stiftung's Transformation Country Report (2022). Ukraine Country Report. Gütersloh: Bertelsmann Stiftung.
Dalevska, N. (2017). The Institutional Determinants of Global Economic Development. In the book Economic Transformation in Ukraine: Comparative Analysis And European Experience. Eds. Piotr Glowski & Oleksii Kvilinskyi, Warsaw.
Gataullin & Lebedev (2011), The Degree of Freedom of Social Subject in the Space of Post-Ideology. Scientific Notes of Kazan University. Humanitarian Sciences. Vol. 153. Book 1: 32-41.
Prishlyak, N. (2022). Almost 90 % of Ukrainians believe that in 10 years Ukraine will be a prosperous country in the EU. UNIAN. 7.11. 2022.
Fukuyama, F. (2015). Why is Democracy Performing so Poorly? Journal of Democracy. Volume 26, Number 1 January. National Endowment for Democracy and Johns Hopkins University Press.
How Ukrainians Perceive European Values. Main Results of an Empirical Survey. ("How Ukrainians Perceive European Values - library.fes.de") (2017). Ed. Mattes Buhbe.
Inglehart, R., Welzel, C. (2005). Modernization, Cultural Change, and Democracy: The Human Development Sequence. Publisher: Cambridge University Press, January.
Kozyreva, L. D. (2020). The State and the Citizen: From Paternalism to Neopaternalism. Administrative consulting. No. 7. P. 46–52
Lee, S.M. & Peterson, S.J. (2000). Culture, Entrepreneurial Orientation, and Global Competitiveness. Journal of World Business, 35, 401-416.
DOI https://doi.org/10.1016/S1090-9516(00)00045-6
Maknickiene, N. (2022) Application of Evolutionary Artificial Intelligence. An Exploratory Literature Review. Applied Business: Issues & Solutions No 1. 22-31. https://doi.org/10.57005/ab.2022.1.4
McKinsey report: Two AI trends top 2022 outlook (2022). https://venturebeat.com/ai/mckinsey-report-two-ai-trends-top-2022-outlook/
Nosova, O. (2023). The Role of European Union Values in the Ukrainian Social-Humanitarian Safety Provision System. London Journal of Social Sciences. Number: 5. https://doi.org/10.31039/ljss.2023.5.95
Rabie M. (2013). Global Economic and Cultural Transformation. The Making of History. Palgrave Macmillan. 219 p.
Rubinski Y.I. (2013). Main Trends of European Values. Reports of the Institute of Europe. № 297. Russian Academy of Sciences. Institute of Europe RAS. Moscow.
Shkalina, G. (2020). European Values: The History of Formation. Herald of the Mari State University. Chapter "History. Law." Vol. 6, No. 1: 69-79
Soral, S., Roy, S., Ranchhod, S., Holland., J. (2023). Unlocking the Power of AI. Organizations need Machine Learning Operations to Scale their AI Capabilities. Deloitte Insights. 17 April. https://www2.deloitte.com/us/en/insights/focus/cognitive-technologies/ai-and-machine-learning.html
Social Trends 2023 from Gradus Research (2023). Like War Turned Ukrainians in a More Conscious Nation. https://gradus.app/uk/open-reports/
Technology and Telecoms Outlook 2024. AI in the Real World. (2023). The Economist Intelligence Unit Limited.
Venture Capital & Private Equity (2022). Dealroom. co https://dealroom.co/client-types/venture-capital-private-equity
Ukraine in World Values Survey. Resume of the Analytical Report. (2020). NGO Ukrainian Centre for European Policy. Kyiv.
Why AI Matters: Opportunities, Risk and Regulations (2023). The Economist Intelligence Unit Limited.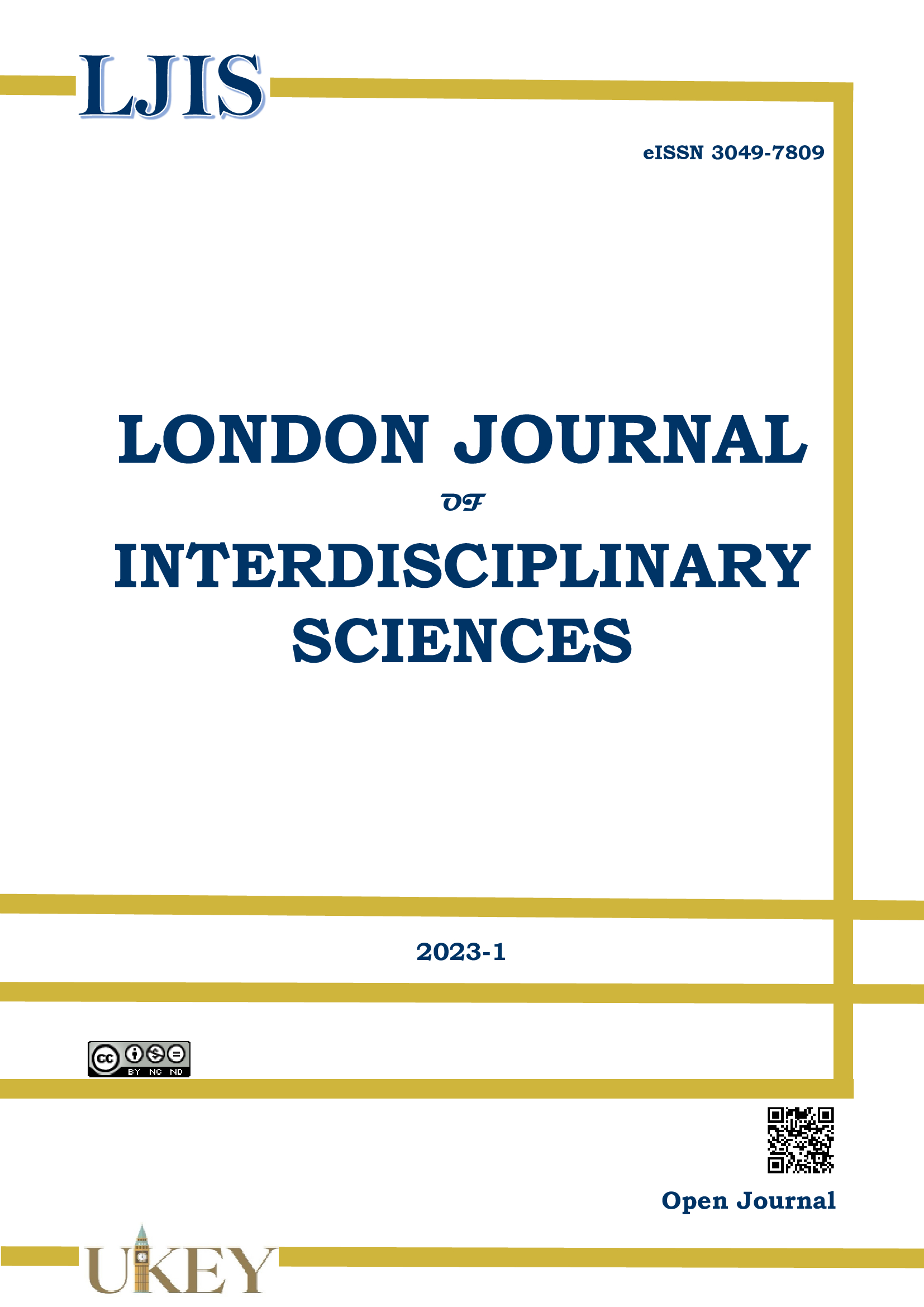 Downloads
How to Cite
Nosova, O. (2023). Estimating Ukrainians' approval of European Union values using artificial intelligence. London Journal of Interdisciplinary Sciences, (6), 15–30. Retrieved from https://londonic.uk/js/index.php/jis/article/view/151
License
Copyright (c) 2023 Olga Nosova
This work is licensed under a Creative Commons Attribution-NonCommercial-NoDerivatives 4.0 International License.
You are free to:
Share— copy and redistribute the material in any medium or format
The licensor cannot revoke these freedoms as long as you follow the license terms.
Under the following terms:
Attribution - You must give appropriate credit, provide a link to the license, and indicate if changes were made. You may do so in any reasonable manner, but not in any way that suggests the licensor endorses you or your use.
NonCommercial- You may not use the material for commercial purposes .
NoDerivatives- If you remix, transform, or build upon the material, you may not distribute the modified material.
No additional restrictions- You may not apply legal terms or technological measures that legally restrict others from doing anything the license permits.